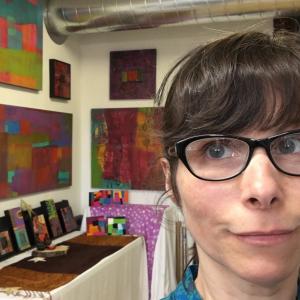 Patti Agapi
Artist member since 2019
Orillia, Ontario
Patti Agapi is an Orillia, Ontario based abstract artist who works across the mediums of paint and collage. She creates through a meditative yet energetic application and layering of materials, often attacking the substrate in an intuitive rhythm. Each work is a process of building up, covering up, reflection and finally fruition. Always striving to conjure interesting manifestations in colour and form, she is guided by the relationship between layers and their alchemic responses. In this process, each layer moves the work forward towards conclusion. Each work unfolds a visual story to be interpreted in infinite ways. She hopes people experience the journey (and often struggle) in her work, sensing past incarnations that echo through glimpses of previous layers and mark-making.
---
Beverage of choice
Coffee, coffee, coffee.
I'm really good at making (a) ...
Butter tarts!
When did you start making art, and why?
I have always been a creative soul but have seriously worked as an 'Artist' since 2011. I am primarily self-taught and am always evolving and experimenting. I have worked with collage, mixed media, assemblage, acrylics and fibre art. I make art because it is my meditation, my obsession and it keeps me grounded and sane.
Upcoming Exhibitions
2019-08-08
Lee Contemporary Art, Orillia
Life is an Echo, Solo Exhibition
Select Past Exhibitions
2019
Lee Contemporary Art, Orillia, Ontario
A Different Reality
2018
Twig Creative, Orillia, Ontario
Feministo
2017
Orillia Museum of Art & History, Orillia, Ontario
Orillia 150 Collection
2016
Double Door Studios & Gallery, Anton Mills
Watershed Project: Wetlands
Accolades
2019
Ontario Arts Council
Exhibition Assistance Grant
SHARE THIS ARTIST